Helping You Feel Beautiful At Every Age
External Affairs are experts in aesthetic and regenerative medicine with locations in both St. Albert and Edmonton. Our team of physicians, nurses, and skincare specialists have been helping men and women feel confident in their own skin for over 20 years. Leveraging the latest innovative technologies and techniques, approved by Health Canada, we personalize treatments to your body and your goals for natural results that feel authentically like you.
Our journey began in 1995. We started out renovating the old Calder Library on 127th Street in Edmonton to accommodate a clinic and hair salon.It soon became apparent that Becky, as an RN and an esthetician was a natural at beauty treatments and pampering people.
As the location grew in popularity, it wasn't long before she needed to start hiring and training other estheticians to help keep up with the demand.
10 years later, External Affairs reputation had grown to a point where a second location was needed. In 2005, we opened our St. Albert location in the iconic St. Albert Trail building. Featuring stunning architecture throughout, the clinic is a must see.

Helping people, making friends and having fun.We understand that we cannot be all things to all people and so we have set our sights on providing the most advanced beauty and regenerative medicine services available anywhere.
Our goal is to put more life in your years and years in your life. We do this with relentless research and acquiring the most up to date technologies along with an ongoing focus on training and education for all EA team members.
In short, we reject mediocrity and our many awards throughout the years such as Google's #1 Medical Clinic for 2018 is a testament to our company's culture.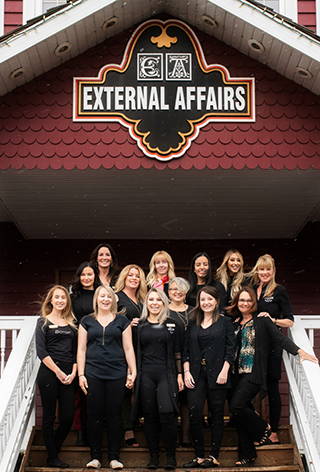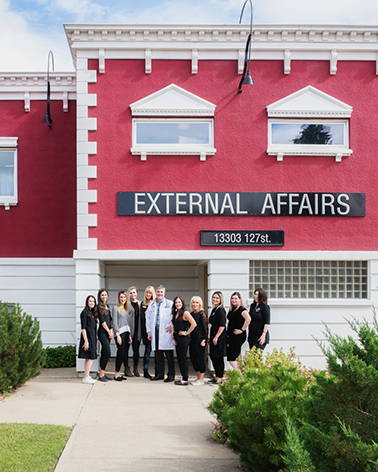 We know that delivering excellence in client services is truly a collaborative effort. Our skilled physicians & nurses in Edmonton & St Albert are supported by a team of nurses and technicians that are trained to the highest industry standards.
Our dedicated team of 36 are constantly studying, training and progressing to deliver the best possible results for our clients.
We hold weekly general staff meetings, medical director meetings, nurse meetings, PM artist meetings along with group and individual training sessions.
We travel to train with world-renowned experts or bring them to us. Apprenticeships, fellowships, staff training site etc. are all considered the basics to ensure progression, a cohesive culture and distinction in every area of endeavour.